The Daily Route of Kyrie
The idea of being a student-athlete is as difficult as it sounds. Whether your a boy or girl, play football, basketball, or volleyball the idea of trying to balance classwork, practices, tests, and projects, and games can be extremely difficult to manage. Between the teachers and coaches, student-athletes have been forced to understand the idea of balance. Managing all these time-consuming activities can be a big challenge especially if on top of all of that you want to social life. Woodbridge is known for having many student-athletes that efficiently balance their schoolwork and their given sport. Senior, Kyrie Duplessis, is a starter on the varsity football team who fights a constant battle trying to balance his athlete and academic life.
Kyrie grew up playing sports. He first started with T-Ball, however, as he got older he became bored of it. When Kyrie turned 7 years old he started playing football. He started playing football because he saw all his friends playing and wanted to join. He started off playing wide receiver and that is the position he still plays today.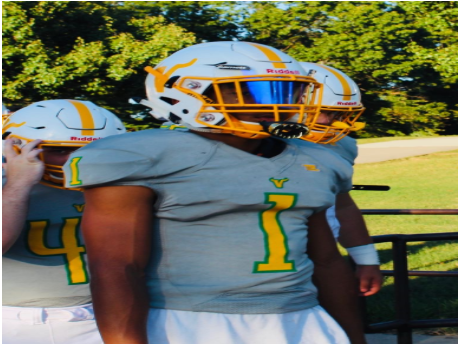 Although Kyrie loves playing football, at times he feels overwhelmed. Many times he feels that there is not enough time for everything to get done. When asked to describe what is an average day during the football season is like Kyrie stated, "Depending on if it's off-season or not, many times it is common for the team to have early morning workouts. If we have them, I wake up at 5:00 am to get to school by 6:00 am. Workouts end at 7:00 so there is no time for me to go back to my house. I shower, change, grab breakfast at the school, and then head to class. I go throughout my classes and do whatever tests or quizzes I may have that day. After school, I go to the lower cafeteria for practice. The beginning of practice is used for study hall (even though I sleep during it) and then we watch film from last week's game. Around 4, the team heads to the field and starts practice. Practice lasts around 3 hours so normally I do not get home until 7:30. I shower and eat and then start my homework. I finish everything around 10:00. I get my stuff ready for the next day, watch some TV, head to bed, and do the same thing over again.
With this busy schedule, it is easy to feel tired and overwhelmed. Many times Kyrie wants to give up, especially after a bad game. However, he knows with persistence and patience his hard work will pay off. Kyrie's biggest motivations are his parents and the hopes of playing football in college. His parents help him stay focused and make sure his GPA remains high. "My parents keep on track and make it known that academics always come first," he stated. Kyrie also is his own self-motivation. In the future, Kyrie hopes to play football in college and then eventually after college but he knows this won't be easy. 1 out of 50 people make it to the NFL and even though these changes seem impossible Kyrie does not give up.                 
Football is Kyrie's everything. And although it can be stressful, he will never stop loving it. With every stressful moment comes with a great memory that will last forever. Kyrie's favorite football memory is from 2017 when Woodbridge beat Hylton and became Regional Champions. Memories like this one are the reason Kyrie gives 100% on and off the field. In hopes of becoming a professional football player, Kyrie will continue to show a great work ethic in both classes and on the field.                 
About the Writer
Jade Spurlock, Sports Section Editor