Was High School Musical the Musical the flop it promised to be?
This past November Disney released its streaming service Disney+ which has swept people off of their feet with the vast number of shows, movies, and variety that appeals to so many people.  So many people were impressed with Disney's selection they felt that the release of additional Disney+ originals was not needed and could do without it. However, Disney knew that the classics would only be so popular for so long.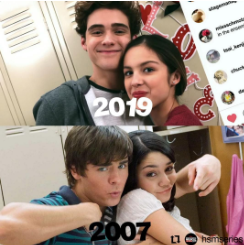 When Disney's lineup of originals, that could only be found on the streaming service, came out people were shocked and disappointed that they would return to the Highschool Musical franchise. Fans were outraged calling them background characters and unappealing. This continued until the first episode of Highschool Musical: The Musical came out on November 12.
I have to admit that I was one of the naysayers and thought why would Disney ever try to make a new storyline from something so classic! But boy was I proven wrong when the shows witty humor and Office like filming made the show so unique. The plot too was original and had ties to its predecessor while creating its own unique story which follows Ricky and Nini through their breakup. 
The show was well-received by all and even was made into a meme on TikTok because the show relates to so many people. It goes through the ups and downs of a breakup that maybe should not have happened and many others. Highschool Musical: The Musical also has broken through so many glass doors with Nini having two mothers and Ricky having to deal with a divorce. Additionally, they have provided a diverse cast that includes open LGBTQ+ members as well as women of color as the foreground for the show.  They even gave Sharpay a twist by having actor Joe Serafini play her making him another openly gay character that is also seen in the musical itself.
So the show is clearly making strides into being an inclusive show, but that does not necessarily mean it is good. This is where I would have to take the opposite side. I think that for as bad a rap as it got before the show was even aired this series is one of the best I have seen from Disney in a long time. 
This past Friday the finale came out and shocked thousands of fans. However, they still failed to tie up the episode which is a common theme. I always tell my family after watching an episode that it feels like they start a new plot each time. However, I think this is what makes the show so good. It is targeted towards older teenagers and those who, like me, grew up watching the HSM franchise and know every lyric and dance move to the final scene of "We're All in This Together". This show has quickly jumped up to my list of all-time favorite shows because the humor, plot, and music is so appealing.
So should you watch Highschool Musical: The Musical? Totally! Well, this is coming from a slightly bias opinion, but the show, like I previously mentioned, is one of Disney's best since Jessie ended. And while there may be no Zac Efron there is still the Wild Cat pride that runs through the veins of this series.