Is TikTok popularizing reading books for Gen Z?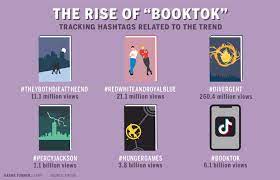 Since the summer of 2019, the popular app, TikTok has quickly become one of the most used apps amongst teenagers. Many find themselves scrolling on the social media platform for hours at a time, falling into an endless abyss of 15-60 second videos. These videos can range from the latest dance trend such as the renegade in 2019 to specific fandoms such as Harry Potter which became popular and known as Dracotok in the summer of 2020. Another popular area on the rise is called Booktok. 
With over 7.4 billion videos under the tag #booktok, many literary lovers from all generations (but mostly generation z) are posting book reviews and recommendations popularizing books for this generation. These videos range from specific tropes such as enemies to lovers,  friends to lovers, and other romantic ideas. Additionally, these creators also recommend books based on what they feel. The title these videos as books that broke their heart into little pieces,   books that made them happy, and most importantly,  books that tiktok made them buy. Through this platform, Gen Z has been making its way to the bookshelves to look for books such as The Invisible Life of Addie LaRue, Song Of Achilles and We Were Liars. 
We Were Liars was actually published in 2014 but gained recognition, hitting the bestseller list in the summer of 2020 according to the New York Times. In an interview with the author, E. Lockhart claimed she didn't know why her book was becoming popular now almost 6 years later. 
The true reason was that many creators were recommending the book on TikTok which had many making the trip to their local bookstore to pick up a copy. Booktok has become so popular that bookstores have been picking up on the trend as well and are going to the lengths to have a Booktok section in their store that includes these popular titles. 
This all poses the question of if books are starting to repopularize in the age of technology. The answer is no. Prior to Booktok, there have been other ways creators have been able to recommend their latest read which is through Instagram and Youtube, often called Bookstagram and Booktube. 
The difference between these two platforms and Tiktok is that it is harder for people to see that content. Since Instagram and Youtube often recommend videos and photos based on the content you interact with, Tiktok shows a wide variety of videos on the viewer's "For You" page. This page is catered to the viewer's interests as well but if the platform registers that a video is gaining a lot of traction, the For You page picks it up and puts it on this page despite the viewer's interests. 
This has allowed for many to acknowledge that Booktok exists but isn't necessarily having every teen on Tiktok picking up the book based on a video they just viewed.